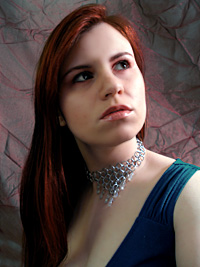 Jennifer Doneske was born on November 28, 1979, and grew up in a small town in rural Macon County, Tennessee, the only child of Darrell and Phyllis Pitcock. As a child, she constantly found ways of creating things--drawing, clay, crafts, and anything else she could get her hands on. She had a corner in the family living room she called her "drawing space," where she had a make-shift desk made of an old side table and a toy ironing board, and where she spent hours every night drawing dragons, dinosaurs, unicorns, cats, people, and whatever else caught her interest.
Between ages nine and thirteen Jennifer created dozens of "cartoons"--essentially a set of drawings of a cast of characters and a basic plot outline. As she got older, these cartoons gave way to comic book-style original superheroines and villainesses. In high school, she had a habit of drawing during class, and this frustrated her teachers until they realized she wasn't goofing off, she was actually listening and absorbing all of the material while she was drawing. Art has always been an inseperable part of Jennifer's life.
After graduating high school with the third-highest GPA in her class, Jennifer entered college as a geology major. She had loved dinosaurs since she was a child and had planned to be a paleontologist since she was seven years old. It didn't take long for her to realize that science was not her calling, and in her second year she changed her major to English with the hope of becoming a writer. Before she could finish her degree, she and her first husband divorced and she had to leave school to work and save up money. It was during this time that Jennifer was hired at her local newspaper--originally as a writer--and ended up being transferred to graphic design within a few months. This experience was invaluable not only for future jobs but also as a tipping point toward pursuing graphic design and commercial illustration professionally.
Jennifer has since graduated from Middle Tennessee State University with a B.A. in English and a minor in Art. She has worked full-time as a graphic designer and has taken on freelance clients of her own, and continues hone her craft both professionally and in her own personal projects. She lives just outside of Nashville, Tennessee with her husband, Tom (who is also an artist with galleries at Elfwood and deviantART), and their two Maine Coon cats, Sake and Sushi.